On 4th September, the 20th meeting of the Singapore-Sichuan Trade and Investment Committee was held in Singapore. At the meeting, the Singapore Enterprise, Sichuan Provincial Bureau of Economic Cooperation and the Chengdu High-tech Zone Management Committee signed a memorandum of cooperation to further confirm the continuous promotion in the construction of SSCIP. The both side will jointly create the innovation ecology of SSCIP promote the establishment of Sichuan Innovation Center, and promote Singapore and Sichuan enterprises to exchange and cooperate to boost the development of key projects such as the Singapore Innovation Center. In the opening speech, Singapore's Prime Minister's Minister, Mr Ng Chee Meng also highlighted Singapore Innovation Center in SSCIP.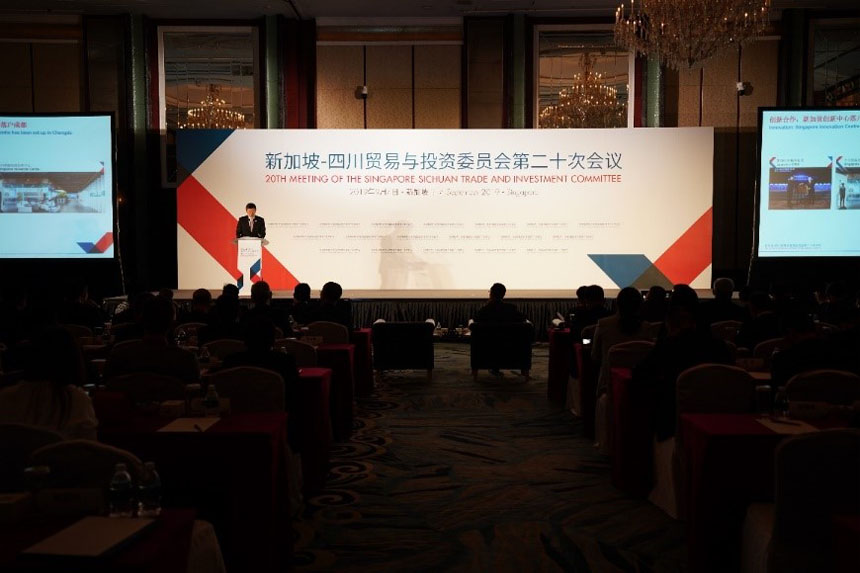 At the 20th meeting of the Singapore-Sichuan Trade and Investment Committee, Five projects including Ademco Security Group Chengdu Headquarters Project, SinoVision Technology China Headquarters Project, Apiring Citizens CleanTech China Headquarters Project, Black Rubik's Cube Technology Chengdu headquarters project, Innowave Tech Chengdu headquarters project were officially signed MOU to settle into the Singapore Innovation Center.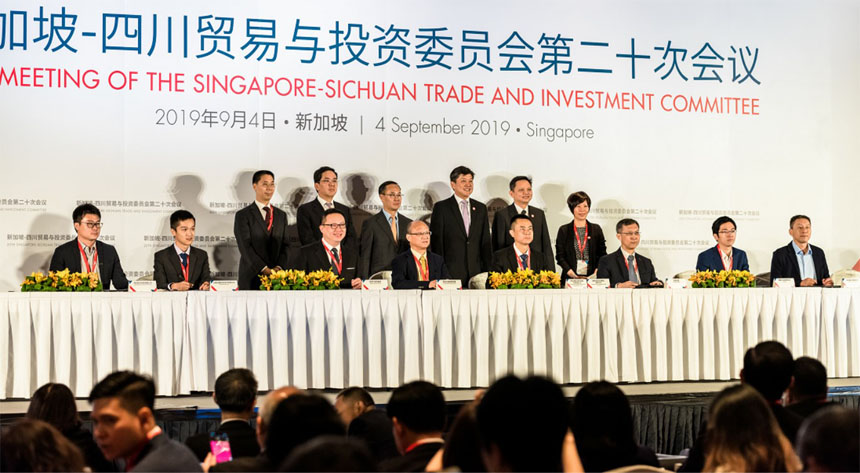 Ademco Security Group founded since 1970s, is a turnkey security solution provider and smart security service provider. The group has local entities in 7 Asian countries and more than 20 offices in different cities. ASG Shanghai is its entity serving China. Ademco is going to set up local entity in Singapore Innovation Center in SSCIP Chengdu, to provide better service for all customers in west China.
SinoVision is a fast-growing high-tech research and development company focusing on unified decision-making platform by utilizing artificial intelligence and biometric recognition technologies. SinoVision has established its name in recent years by providing tailor-made solutions to serve their well-known clients covering various industries including finance and banking, transportation, IT datacenter and healthcare sectors.
Aspiring Citizens CleanTech
Established in Singapore, Aspiring Citizens CleanTech provides smart city big data platforms for governments, transportation companies, drivers and passengers, and integrate state-of-the-art IoT, cloud computing, big data, artificial intelligence technology through cooperation with leading universities and research institutions. At present, Aspiring Citizens CleanTech's taxi big data enabling platform cooperates with four first-tier and new first-tier cities, serving more than 60,000 taxis and processing 1.8 million trips of big data every day.
Black Magic Cube Technology (BMC)
A wholly foreign-invested, Singapore-based company that provides one-stop Internet-based product services and technology solutions through independent research and development of mobile Internet products and information management systems based on advanced Internet technologies such as mobile Internet, cloud computing, big data, and social networking. As a group R&D center and a southwest regional center, BMC will rely on the head office business to provide users with more satisfactory products and services with leading products, perfect service system, strong technical support and modern management. Its Chengdu branch is engaged in blockchain research and development.
Innowave Tech
Innowave Tech is a Singapore Industrial AI Technology, founded by Xu Jinsong, the founder of Innowave Consulting and the expert of Semiconductor Manufacturing and Industry 4.0. With a wealth of semiconductor industry production management experience, combined with big data, industrial artificial intelligence and industrial IoT technology to provide products, solutions and technical support services for the intelligent data development of semiconductor, precision manufacturing and electronics industries; Founding team members include researchers in the field of data intelligence and experts in industrial digital intelligence.