Chengdu Hi-tech Industrial Development Zone of China (Sichuan) Pilot Free Trade Zone (herein- After referred to as"Chengdu Hi-tech Pilot Free Trade Zone")covers a planned area of 29.86 Km2 (including Xinnan Business Area, Financial City, Tianfu Software Park, Business & Innovation Center for China-Europe Cooperation, and Singapore-Sichuan Hi-tech Innovation Park, and is oriented to be the core zone of China (Sichuan) Pilot Free Trade Zone.
In compliance with the new situation of global economy, Chengdu Hi-tech Pilot Free Trade Zone focuses on institutional innovations and prioritizes the development of modern service, high-end manufacturing as well as high and new technology. It is aimed at building a cluster zone of modern high-end industries, a precedent of innovation-driven development, a pivot of open and innovative financial industry, and ultimately an opening-up gateway in western China.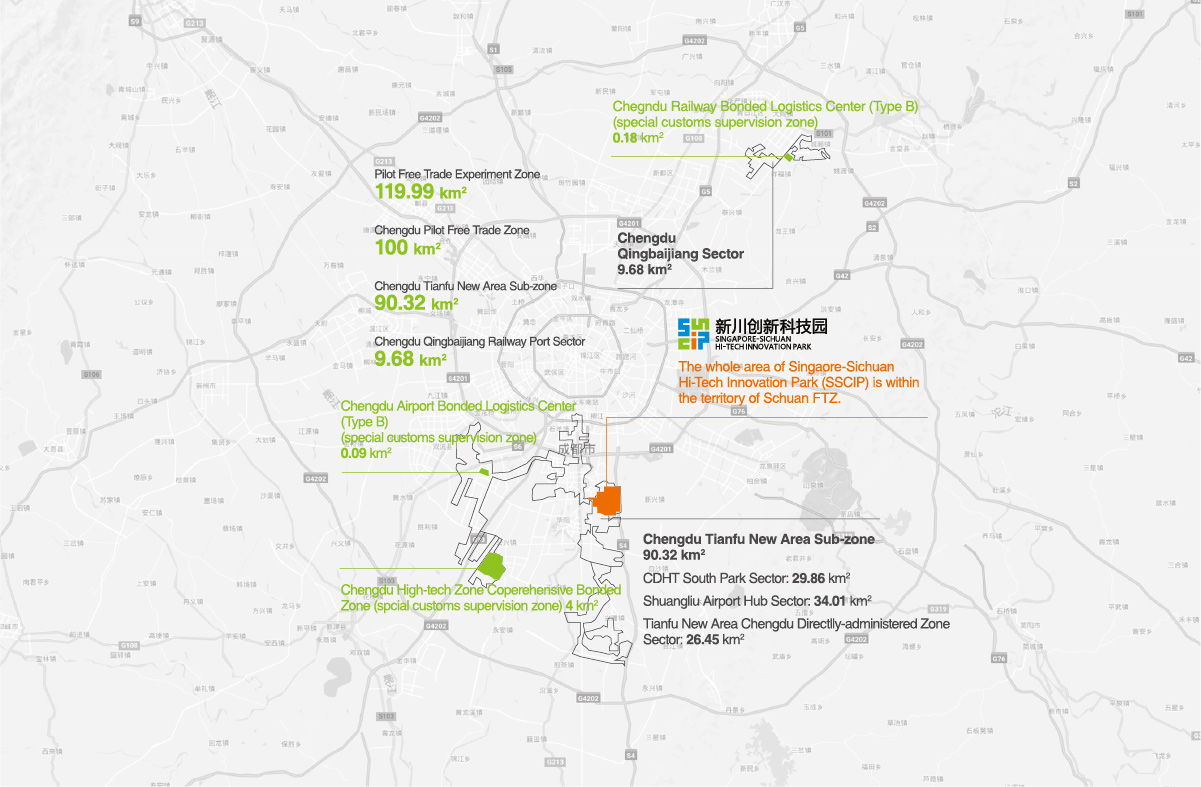 Chengdu Pilot Free Trade Zone Industry Directive
Sector
District
Major Carriers
Key Development Priorities
Tianfu New Area
Area in Chengdu Hi-tech Zone
CBD of Financial Center
Emerging financial sectors like equity investment fund, internet finance, fintech, etc.
International Funds Town
Tianfu Software Park
R&D, technological innovation, internet big data, creative industries, engineering and designing, global cooperation on production capacity, emerging finance, equity investment fund, internet finance, financial services, international education and medical services, expo business, headquarters economy, high-end commerce, bio-medicine, energy-saving and environmental protection, tourism services, etc.
SSCIP
Area in Chengdu Tianfu New Area
Chengdu Science City
Area in Shuangliu District
Shuangliu Aviation Hub
Port services such as international goods distribution, dispatch and display, bonded logistics and warehousing, international freight forwarder, whole-vehicle import, featured finance, etc. Modern service industries such as information service, technology services, expo service, etc.
Chengdu Qingbaijiang Railway Port
Airport industries including aviation hub services, general aviation, aviation manufacturing and maintenance, aviation logistics, cross-border e-commerce; Bonded industries such as processing trade, merchandise display and sale, finance lease (incl. airplane bonded lease), detection maintenance, warehouse logistics, electronic information supporting services, international cultural bonded zone, bonded printing, etc.