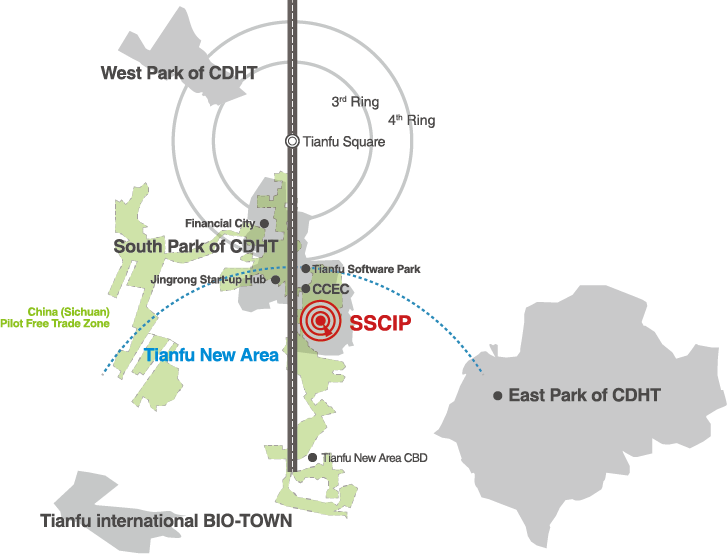 ●
The Southern Park - covering an area of 87 square kilometers, it focuses on the development of new economy and modern service industry to set up a new economic vitality zone that undertakes regional financial center, innovation and creation center, international exhibition center, and international cooperation center.
Chengdu Hi-tech Pilot Free Trade Zone,
with a planned area of 29.86 square kilometers, strives to build an open highland of free trade zone facing the world by relying on industrial and policy accumulation advantages such as high technology, self-innovation and fintech.
Chengdu Financial City,
with a planned area of 5 square kilometers, is an important support for Chengdu's construction of the western financial center, an important carrier for attracting financial headquarters, and a powerful engine for promoting the development of the financial industry.
Tianfu Software Park,
one of the 11 national software industrial bases, gathering more than 600 enterprises with over 60 thousand employees and 34 of Fortune 500 companies. It is a famous innovation landmark in China.
Singapore-Sichuan Hi-tech Innovation Park,
covering an area of 10.34 square kilometers, is developed and constructed by Sichuan Province and Singapore. It focuses on the development of innovative industry clusters such as new-generation IT, life sciences and new economy industry clusters. Its objective is to build a model new town that integrates innovation, ecology and culture elements.
Jingrong International Startup Hub,
covering a building area of 256,000 square meters, is the main bearing place for China-Korea Innovation and Pioneer Park. It has the first innovation and entrepreneurship foreigners home in the Midwest.
Business & Innovation Centre for China-Europe Cooperation,
covering an area of 210,000 square meters, is an important comprehensive service platform that serves for Europe and the permanent venue of EU-China Business and Technology Cooperation Fair.
●
The Western Park – Covering an area of 43 square kilometers, it focuses on the development of integrated circuits, optoelectronic displays, intelligent terminals, network communication industry ecosystem and Electronic Technology University of China collaborative innovation platform. The total import and export volume of Chengdu High-tech Comprehensive Bonded Zone in the first half of 2018 jumped to the first place among all comprehensive bonded zones in China.
●
The Eastern Park – Covering an area of 483 square kilometers, relying on the Chengdu Tianfu International Airport, it plans to build the Chengdu Tianfu International Aerotropolis and focuses on the development of the high-end manufacturing industry, the airport modern service industry, and the new generation information technology.
●
Chengdu Tianfu International Bio-town – covering an area of 44 square kilometers, it has 4 main industry directions including biological medicine, biomedical engineering, biological services, and health new economy, focusing on the development of biotech drugs, new chemical medicine preparations, and modern Chinese medicine, medical apparatus and instruments with high performance, Intelligent health + precision medicine and professional outsourcing services. It is committed to building a world-class bio-industry park.